Luxury Yachts for Sale
We are Fethiye based yachting company, serving Eastern mediterranean waters namely Turkish Riviera and the neighbouring Greek islands with Luxury yachts for sale.
We are experienced in Building, selling and chartering Turkish Gulets and luxury Motoryachts.
We build luxury yachts for sale in our subcontracted boatyards in Antalya, Bodrum, Fethiye, and Istanbul for more than three decades serving clients in blue water industry.
Hundreds of yachts were uploaded regularly in our yachts for sale portfolio and they were all checked and studied in order to protect our client's interest.
You may consider the size of yacht according to your budget.
This is suitable time to consider buying a luxury yachts for sale.
people sell and buy yachts in winter and cruise the blue waters in summer.
We are here to help you buy a luxury yacht for sale whether newly built, custom design, or pre owned .
Luxury Yachts for Sale
If you are a yacht owner and you are considering to build a bigger yacht, we can help you fulfill your dreams, Our professional naval architects, engineers in participation with our experienced stuff in our boatyards will help you design and build your own project turkish gulets for sale and  yachts for sale.
Yacht building take some time starting from twelve months up to twenty-four months depending on the size of the yacht.
You can also have a look at our second hand yachts and you might like one of them.
All what you need is to pay more attention to the yachts that are shown in our portfolio.
If you like one, you can visit the yacht at your earliest convenience in person and check her latest condition.
Steel hull yachts are of top quality whether newly-built, or preowned, epoxy laminated wooden hull yachts are very attractive since building materials are the best wood like teak and mahogany, we import them from Africa in cheaper prices which encourages our clients to keep building and refitting with us every winter in our boatyard.
Luxury Yachts for Sale
We offer cheaper prices due to low cost in yacht craftmanship, this is why most of our clients come to our boatyards in Turkey.
By the end of summer,  luxury yachts for sale could be offering the best price possible. Luxury yachts for sale
This is most suitable time to consider buying your boat because all boats are going to be refitted and undergoing winter maintanence, winter is a good time to get your yacht.
if you are considering a second-hand yacht, you need to do a preliminary survey on such yacht before pouring your money into such big investment.
The survey should be carried out anyway, whether you consider buying a second hand yacht or a newly built one.
Our expertise can accompany you to the boatyards and marinas if you would like to buy a second hand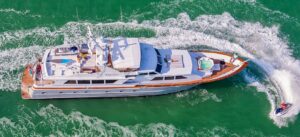 and they will do the required survey for you in order to check that the yacht is ready for cruising in any spot in the world.
Even if you are consider buying a new yacht.
Luxury Yachts for Sale
Make sure thet engine room is adecuately isolated from guest's cabins and does not make much noise and you a have to understand that you are going to undertake the expenses related to her maintenance, mooring fees, marina fees, crew wages and other things related to keep her in good shape.
If you like one of our yachts, do not hesitate to call us and ask about her current condition and her latest location.
Our brokers can respond to your inquiries 24/7 if your language is Turkish, Russian, Spanish, French or English.