Turkish Gulets for Sale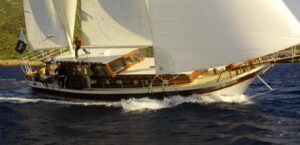 Turkish Gulets for sale are considered to be very seaworthy, reliable, spacious, comfortable and elegant motorsailers that are being built with modern interior designs, top of the line quality, durable and long lasting hull materials.
These turkish gulets for sale do have best of both worlds such as power yachts and sailing gears which are equipped with twin screw powerful engines which gives Spe.,
Stability and power at sea meanwhile they are equipped with best quality rigging materials, sailing gears, sails of dacron, kevlar or spectra, aluminium masts, kevlar ropes, powerful hydraulic winches to reach upto 14 knots with sails or motors.
Once you have chartered or purchased a beautiful turkish gulet for sale, you may have fall in love with the unique lifestyle, pleasure and freedom that such yacht can bring to you and your loved ones.
Turkish Gulets for Sale
If you are considering yacht ownership, that you can sail whenever you wish to, wherever you desire.
Our Turkish gulets for sale brokers will be pleased to recommend you the most suitable gulet and help you find the most adecuate yacht to match your expectations and have your dream yachting holidays together with your loved ones.
Our turkish gulets for sale and classic motoryacht for sale portfolio consist of modern and classic design gulets for sale and suitable for each and every budget, either standard classic built turkish gulets for sale or modern built epoxy laminated glass fibre reinforced, steel putty finished, seamless profile and elegant turkish gulets for sale.
All you have to do is to let us know what is your budget and the size of turkish gulet for sale you are looking for either private or commercial use in order to decide exactly what we can propose you to spend unforgettable holidays family cruise with your loved ones.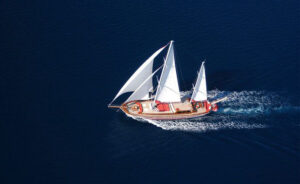 Our international network of yacht brokerage can help you at anywhere in the world thanks to our three decades of experience and with many satisfied customers.
Our experienced team of brokers has prepared our turkish gulets for sale portfolio which you can be sure that you can find what is offered for sale by the principal owners with whom you can negotiate.
All you need to do is to check that this portfolio and let us know the reference number of the yacht which suits best to your expectations and your budget.