Sailing Yachts for Sale
Sailing Yachts for Sale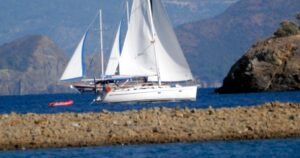 Sailing yachts for sale can perform as well as motor yachts with favorable winds and with the right crew on board sailing yachts which is very important to have experienced sailors.
Buying a GRP (Glass Reinforced Plastic) shortly fiberglass yachts has many advantages as well as a widely known disease which is called "osmosis" and you might really want to know if your future yacht has been affected with osmosis which can be disastrous when not cured timely. Sailing yachts for sale by an international yacht brokerage specialist based in Turkey, If you want to sell or buy a yacht, let us check it out for you.
Boat age, engine hour and generator hour and the maintenance carried out, electrical system wiring, yachts mechanical, hydraulic, electric systems, yachts propulsion systems, shell planking, and materials used for construction are very important to evaluate sailing yacht for sale, that's why an expert should value the yacht before buying or selling.
We would be more than happy to help you get the right boat for the right price and help you own the best possible yacht to make your dreams come true. Sailing yachts come in many shapes, sizes, and different qualities.
The most common family-size sailing yachts for sale in Turkey are built by mass production in large factories from Glass fiber reinforced plastic that's is why the common name is GRP sailing yachts. The concept of GRP sailboats are low-budget low maintenance low cost operations in order to maintain a sound hull, a reliable mast, and quality dacron sails.
Second hand sailing yachts are always in demand due to a large number of sailing yachts are in the market and they are considered to be most easily chartered by Bareboat charter companies which are similar to car rental companies who rent cars to anyone who has a valid driving license such applies with bareboat sailing charters where anyone with a valid navigators license and adequate insurance can hire these yachts, then just add some fuel and provisions to be able to sail away with their loved ones either friends or family.
Meanwhile yachts for sale in Turkey are far more different than small grp yachts where the cabins are much bigger and comfortable compared to strict minimum comfort offered in small sailing yachts for sale. The professional yacht crew would be handling the sails and the maneuvers and take care of your well being during the weekly or more charter period.