Yacht Charter Turkey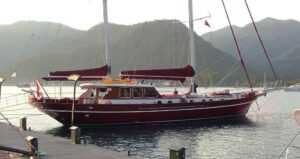 We offer all year round yacht charter in Turkey in the blue waters of Eastern mediterranean.
Besides motor yachti, gulet and yacht charter turkey we offer our portfolios for yacht sales with a large yacht charter in turkey portfolio of gulets and motor yacht charter turkey lists.
With our extensive market experience and know how we can offer you different size of gulets and motor yacht which you might want to check out before making a final desicion. Yacht Charter Turkey
The new generation gulets are built with state of the art technology and they all come in with full air conditio, hot, cold water and some gulets even with jacuzzi on board.
They are the rolls royce of the seas. The number of passengers of a gulet varies, according to her size, between 8 and 16 berths and from 19 to 45 meter boats, that is quite a breathing space for each person considering that every passenger has private quarters and showers jointly used decks, saloons, are quite spacious.
Yacht Charter Turkey
A gulet can be compared to a small floating hotel, there are double berths in each cabin and Every cabin has its own shower.
The crew sleeps and uses the facilities in their separate cabins.
Common quarters include a large saloon, a fully equipped galley operated by a chef, lots of uncluttered deck space, sun mattresses strewn all over to laze on while tanning.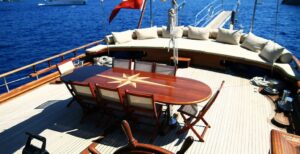 Round sterned gulets have a mattress covered perch in the aft that is called a "pigeon's nest", the most comfortable place to lounge or nap on the yacht charter turkey, And yacht construction protected by awnings.
Unlike a bareboat, a gulet offers the chance to wash off the salt after every swimming party, as they can store up to 8 tons of fresh water. yacht charter Turkey