Gulet Charter in Turkey
Gulet Charter in Turkey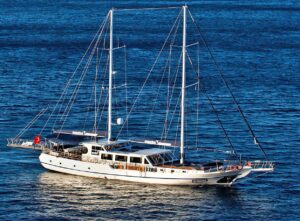 Gulets were built to carry cargoes in shallow waters and for fishing, in the past however they are being built for commercial purposes in the Mediterranean and the Aegean seas for centuries.
With the booming of yachting, tourism in the Turkish Riviera and the Greek islands in the eastern Mediterranean, these long keel gulets were modified to suit the modern sense of life and recently built with top of the line technology and amenities to offer blue cruises with luxury gulets.
Turkey has top quality gulets, to serve the gulet charter and blue cruise industry in turkey, with very competitive pricing compared to other European yacht charter destinations.
The sea has always been an important resource for a wonderful lifestyle for humankind and yacht charter Bodrum is the way to enjoy the blue waters in style gulet charter in Turkey. We can provide you with a piece of advice if you consider starting a commercial yacht charter business gulet charter in Turkey.
Hundreds of gulets for charter are being promoted in our gulet charter in Turkey portfolio. Just let us know the number of cabins or the number of guests you wish to accomodate chartering on board a gulet, and you should also decide the most suitable time for your yacht charter holiday. Please consider calling us three months earlier than your preferred charter period.