Gulet For Sale
Gulet For Sale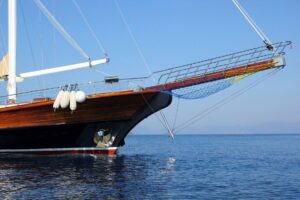 Considering buying a second hand gulet for sale from our portfolio is an option that you need not hesitate over making!
Our experience is quite enough to help you choose what you desire in participation and in cooperation with our gulets for sale professional captains who can get back to you with the best pieces of advice possible for your new project.
Our captains accompany our clients to the boatyard in order to see the gulets for sale in person and have a kind of preliminary test for her.
We protect our clients' interests by letting them have a free trial on board of their second hand gulet for sale in order to check that the performance agrees with their ambitions that they would like to achieve on board. Having already been a gulet for sale owner means that you understand the test that you need to do concerning your gulet for sale that you have decided to buy. Otherwise, you need to check that the shaft and the propeller have been correctly installed and their movement is quite coordinated.
You need to check for the sail's current conditions whether they are ready for your next cruising. Our captains can help you carry out the required tests for your second hand gulet for sale that you are going to select among hundreds of gulet for sale in our portfolio. For the information that you need to know more about gulet for sale, you can send an email since we need to send some useful links for you to consider. You can even call us via telephone that you can take from our contact page when baffled! His stuff is only available on board of luxury gulets for sale in Turkey.
Gulets for sale vary depending on the number of cabins and/or the owner's choice of spacious designs to compete with luxury motor yachts and considering the sailing capacity of the gulets for sale they are superior in many ways to motoryachts with their long cruising range with motor and the sails and high stability advantages due to their long keel.
If you are looking for a Gulets for sale please feel free to consult with us, either new building or preowned, we can show you as many alternatives as you wish to see and make sure we have a gulet for sale which may fulfill your expectations. Gulet building in Turkey.